David – CEO, Founder, Owner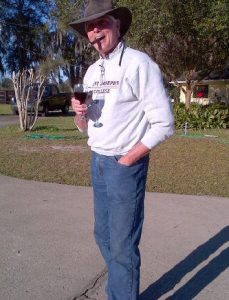 David is an English Comedy loving, rifle shooting, husband, father, and granddaddy who cares for his vines as if they are family. With both a Masters and Doctorate of Statistics it is advised to never play cards opposite of him. You will not win! His background includes higher education fundraising and private business consulting. Viniculture has been a life long passion and curiosity. Now the dream is real. Working alongside his tiny wife, Patricia, and daughter, Katherine, they are creating a legacy for many generations to come.
---
Katherine – Managing Director, Owner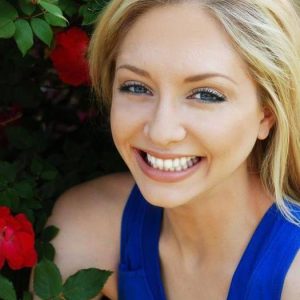 Katherine, the youngest Sokol sibling, is a Florida State graduate, retired ballerina, world traveler and cat meme enthusiast. With her Bachelor of Fine Arts in Dance from Florida State University she enjoyed a career which allowed her to travel the world including New York City, London, China, and Hong Kong. Since retiring from the stage she has accomplished many other endeavors including customer relations, marketing and private finance. All these help in this adventure of a family business! Her father, David, has dubbed her his apprentice wine maker. If you ask Kat what this truly means she will reply "I am excellent at scrubbing the tanks!"
---
The Sokols of Charleston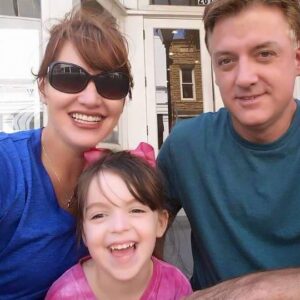 Shane, the eldest Sokol sibling, with his wife Marie, and delightful daughter Piper live in the historic town of Charleston, SC. Shane is the CEO and Equity analyst of his own small financial firm, with a pilots license in his back pocket! Marie is a local actress, avid runner and entering the world of private insurance like a rockstar. Their daughter Piper Riley (yep, named after the plane!) is a tiara wearing animal lover who loves visiting the beach weekly with Mom and Dad.
Patricia – CFO, Owner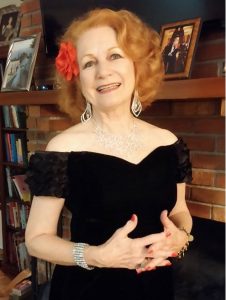 Patricia is beloved by her family as the woman who may easily be lost in a store, she stands only a mighty 5 feet tall!  Armed with both a Masters and Doctorate degree, she rarely loses any discussion around the dinner table. Her background includes being a member of university faculty and the advocation of children. A loving wife, mother and grandmama, Patricia is an exquisite cook. She brings to life family recipes many generations old, filled with love…and of course butter.
---
The Sokols of St. Petersburg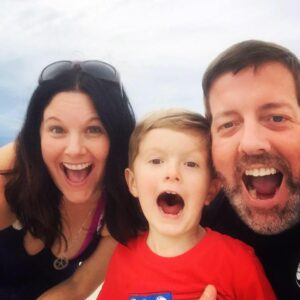 Kyle, the middle Sokol sibling, lives with his beautiful wife Cathy, and adorable son Nikolai in the lively city of St. Petersburg, Florida! Kyle and his younger sister Kat help to keep things running smoothly for Sokol Vineyards (Grandma and Granddad still do not get Twitter!) Kyle has a diverse background ranging from being a former Army Officer, special agent, university professor, skateboarder, and bass guitar player. Cathy has a heart for young learners. She is a reading education specialist, has graduate degrees in education and psychology, and is also a published children's book author! Future minds are in very good hands! Their son Nikolai, or "Neeks the Cheeks" as he is lovingly called, is a fire-cracker-adventurer. Niko loves to sail the Tampa Bay with Mom and Dad on their sailboat "Niko's Journey."  He can also be found with Grandaddy Sokol in the winery… supervising of course!
Executive Chef Tony Deras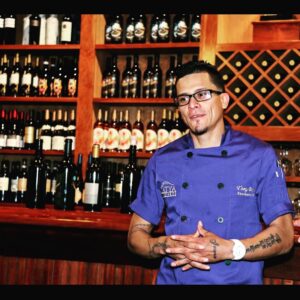 Born and raised in Honduras, Chef Tony Deras arrived in this country at the very beginning of adulthood. Initially entering the culinary world as a means for income Chef Deras immediately was taken with the art of true cooking. He enjoyed watching creations being made falling in love with the process. Chef Deras realized a plate was more than a simple meal… it was an expression of love, an experience. His culinary career is decorated with a large following of patrons and allocates – Four awards from Best of the Best of Ocala 2017, including Best New Restaurant.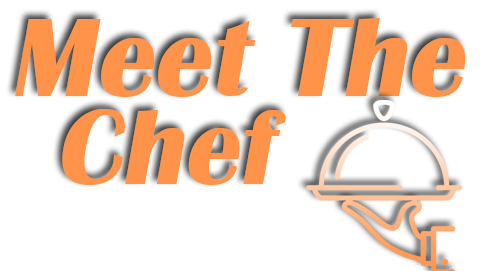 The Chef
Our Executive Chef, Tony Deras, is committed to bringing you world class food on a weekly basis. His menu is created weekly to guarantee that only the freshest seasonal products end up on his incredible dishes. Feast your eyes upon some of the incredible creations you'll find at Katya Vineyards weekly.
Find Out More.

Dr. Wine
He is a man who knows his wine. So many wines and so little time. But if you want to know which wine to drink with your deliciously prepared salmon or Wagyu steak then
find out more
.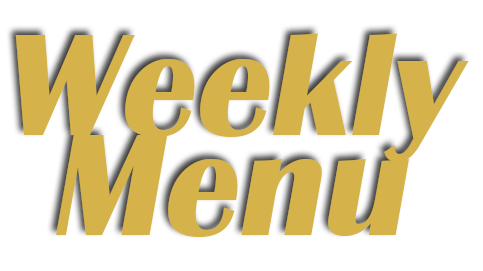 It Changes Weekly
Chef Tony Deras is hard at work always bringing you the freshest seasonal ingredients for his dishes at Katya Vineyards Tasting Room. We are committed to the finest, freshest and most sensational ingredients every single week. See this
Week's Menu!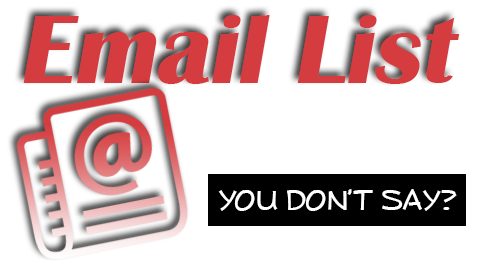 Stay Informed
If you want to keep up to date with all of our goings on then you'll want to join this list. Events, wine releases, wine education, delicious food pairings, wine and more wine.