Katya Vineyards is proud to announce our partnership with Captain Caliente and his delicious hot sauce brand. We will be featuring The Captain's gourmet hot sauces in some of our dishes regularly.
When it comes to fine dining, gourmet food and wine pairings both our executive chef Tony Deras and Dr. Wine are all too familiar with how great flavors go together. Those who know about our tasting room are also aware of the stunning flavors and savory food dishes that chef Tony Deras is able to put together. You are also accustomed to the knowledge, quality and skill that our chief wine maker, Dr. Wine, has put together for Katya Vineyards' premium wine selections. The process of creating incredible foods, wines and pairings for our patrons has been an enjoyable experience for all of us.
Our commitment to quality, fresh and sustainable food remains one of our principle goals. Which is why we change our menu every single week. Fresh, succulent seasonal vegetables and proteins are featured on our changing menu. This commitment to customers carries over into everything we do. From wine pairings to food presentation to our wine products, our goal is to offer the very best of the best for our clientele.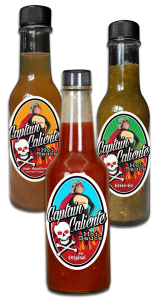 Captain Caliente grows hot peppers right here in Marion County in an amazing aquaponics system. The fresh peppers are harvested then immediately used in his gourmet hot sauces and hot pepper powder series. The Captain is even developing an exclusive secret formula for Katya Vineyards to use. We are excited to partner with local businesses that are committed to the same level of quality we strive to offer.