Today we began a 'trek' south of the city center of Krakow on Stradomska Avenue, past Wawel Castle, approaching the Vistula River, in search of the ancient Jewish settlement of Kazimierz (now a suburb of Krakow). It was King Kazimierz the Great of the 14th century who invited the beleaguered Jews throughout Europe to enjoy protection, greater opportunities in banking and trade and the possibility of higher social standing….the result, the quaint area of Kazimierz.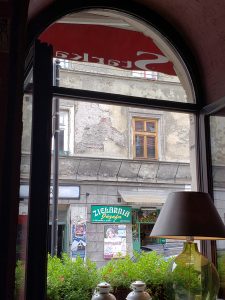 We strolled the area, stopping in a new coffee and wine café, KUKU.  The name reflects a shortened phrase for the Polish term to 'go take a look!'  We walked in and on the wall in blazing neon was the phrase uśmiechnijsię…which means, simply, smile! A delightful respite and a new young friend Kajya….the epitome of the phrase uśmiechnijsię.
We continued our stroll through Kazimierz experiencing the stark contrast between the structures of Kazimierz and Stare Miasto.  It seems that Kazimierz is only now being brought back to life after a long period of neglect.
We were looking for a recommended little restaurant, Starka Restaurant and Vodka.  As we turned the corner onto Józefa Street we came upon a rather non-descript entry to the little restaurant we sought.  We decided to enter and see what awaited the weary traveler through their doors.  To our delight, we immediately sensed a sleepy little jewel, a treasure that beckoned to be explored.
Homemade!  Homemade grilled countryside pork sausage by Mr. Eddy! Homemade pate by Ms. Czesia! Homemade pierogis by Ms. Rysia! Homemade Vodka! Yikes….we were in heaven!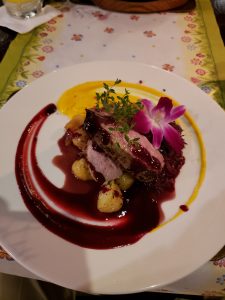 After experiencing some of the appetizers (and homemade vodka, of course) we returned to Krakow central with the intent of returning to sample the evening fare at Starka. Given the slow, casual pace of the afternoon repast with several empty tables, we did not call for a reservation.  We arrived at 7:00pm and, to our chagrin, the two room restaurant was 'booked out' for this Thursday evening!  OK….we will need to find an alternative we thought, and began to turn and leave this delightful space. Ahhh, our new friend (one of the young owners) from our earlier visit called to us and explained that he 'found' a two-top available for us, removed a reserved sign from the table and invited us to 'sit,' with the caveat that we only had two hours to enjoy our meals as he would need the space at a later time! Yes!
Ahhh.  Seated in one of the two small rooms available; warm red walls covered by Zille paintings, fresh flowers on the table with intimate candlelight. We started with homemade vodka….many, many choices here.
We decided to try two traditional soups so that we could compare the flavor profiles with other experiences in Krakow: Zalewajka Soup ~ a combination of potato cream and sour rye soup with egg, white sausage and smoked bacon, and Red Beet Soup ~ with homemade dumplings filled with forest mushrooms. We took our first sip……Patricia and I met each other's eyes across the table at exactly the same time….the word 'amazing' spoken together! The best examples of these traditional soups we experienced to date!
Next we ordered two of the Main Entrées. A tender duck breast marinated in orange peel and marjoram served with balsamic blackcurrant sauce, potatoes roasted with onion and bacon and homemade red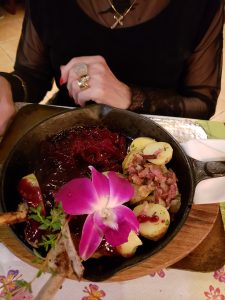 cabbage with cranberries ~ paired with Tokaj Furmint Krakó, Pendits,Tokaj / Hungary, a dry wine characterized by complex flavors of pear and citrus with discernable grassy aromas – absolutely delightful. Our second dish was lamb served in a hot pan with a rosemary caramelized pear, blackcurrant sauce, potatoes roasted with onion and bacon plus warm caramelized beets ~ paired with Orbelus Getika / Bulgaria, an elegant non-filtered, non-fined red wine with a balanced taste from a classic blend of Cabernet Sauvignon and Merlot, enriched by the powerful aroma and characteristic pomegranate color of the unique Bulgarian grape variety Early Melnik. Syrah and a touch of Petit Verdot complete the blend. A bit of the wine's power is obviously for its aging in French oak for a minimum of six months.
This location is a keeper, either for a light lunch or a wonderful dinner….but do call ahead!  Although not easily found, everyone seems to gravitate to Starka (meaning aged vodka).